I work with four teammates on CarFreeAtoZ, the Washington region's first fully multimodal trip planning and comparison tool. Developed as part of Arlington County Commuter Services' Transit Tech Initiative, CarFreeAtoZ makes it easy to adapt smart transportation choices to daily life.
The tool utilizes open transportation data standards and technologies, including: The OpenTripPlanner multimodal routing engine, OpenStreetMap and GTFS Transit data feeds.
Commissioned in `13, the project is ongoing with a planned Commute Manager for employers and mobile app to recently launched for iPhone and Android devices.
I'm the designer and cartographer on the project team and was first contracted in August 2013 to prototype transitive.js – an on-the-go web-based schematic mapping software built by the Conveyal team in D3. Visit Transitive Github.
I was brought on staff in 2014 and focus on user testing, UX, prototyping, front-end development and visual design of the public facing web and mobile application. Working with a variety of testing and design methods, we are continuously iterating on the project.
I am the visual designer on the suite of tools and came up with the software product name, Modeify.
Context
The Transit Tech Initiative for Arlington County Commuter Services with Mobility Lab is an ongoing partnership with Conveyal to develop the foundational technologies that improve rider communication and outreach.
The main deliverables are meant to facilitate ACCS's primarily paper-based outreach efforts to deliver Arlington County residents and commuter employees their best transportation options.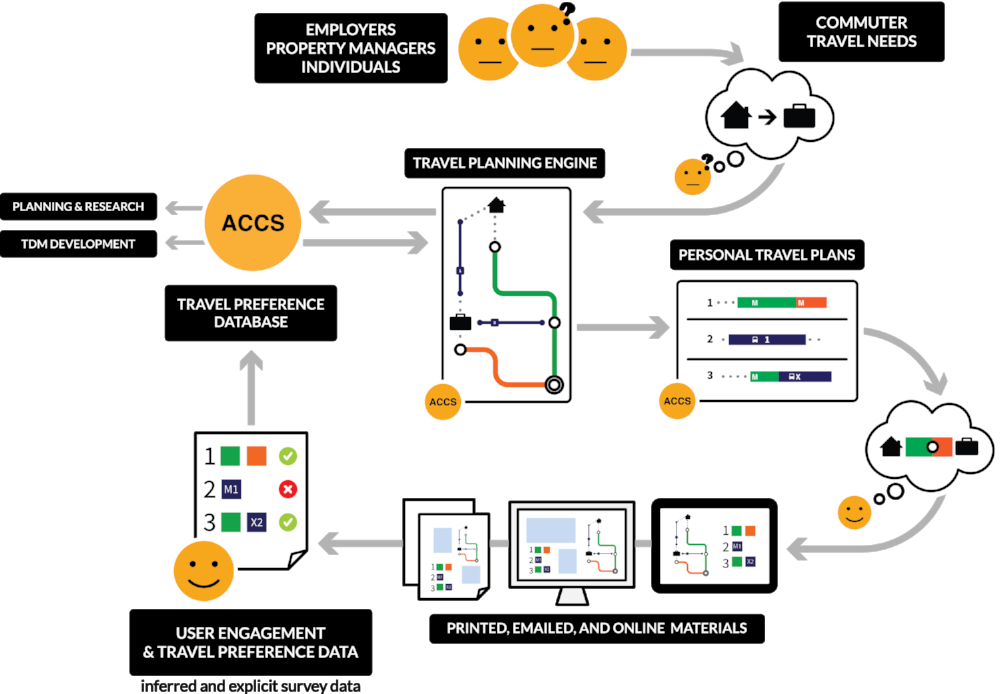 Where the first phase of the project focused on web based trip options for individuals, the second phase developed a commute manager portal for employers.
User testing and engagement metrics were integrally tested and applied in both phases.
Several unique UI layouts and features were tested and iterated on to best serve a rapidly changing mobility landscape. Our intial tools feature multimodal options and a schematic map interface.
Transit Demand Management theory acknowledges that users consider lifestyle factors in their commute behaviors. We tried to provide measurable impact to positive behavior change by quantifying cost, health, time, and environmental benefits.